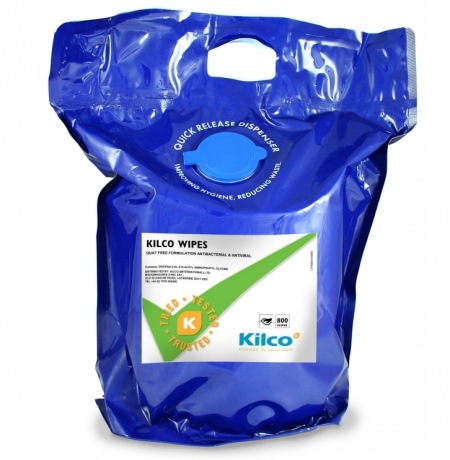 KILCO SUPER WIPES are a QAC free, anti-bacterial and antiviral surface wipe that are suitable for daily or periodic applications in the food, dairy, brewery and beverage Industries.
They are readily biodegradable (OECD 301 A – 94%) and are effective at lower temperatures between, (5 – 10°C) as well as on "dirty" surfaces. Finally, they are less corrosive on metal surfaces, due to their reduced salt content.
Always read the Safety Data Sheet (SDS) thoroughly before use.
Storage Instructions
KILCO SUPER WIPES should be stored in their original container away from oxidising agents and acids. Please ensure the lid is firmly closed after use to prevent drying out.
Please read the Product Label thoroughly before use.
Available in: a pack containing 700 wipes
To order or to enquire
For a copy of the Safety Data Sheet (SDS) relating to this product please contact your local Kersia Area Sales Manager or call our office on 44 (0)1576 205480 or email us at [email protected]