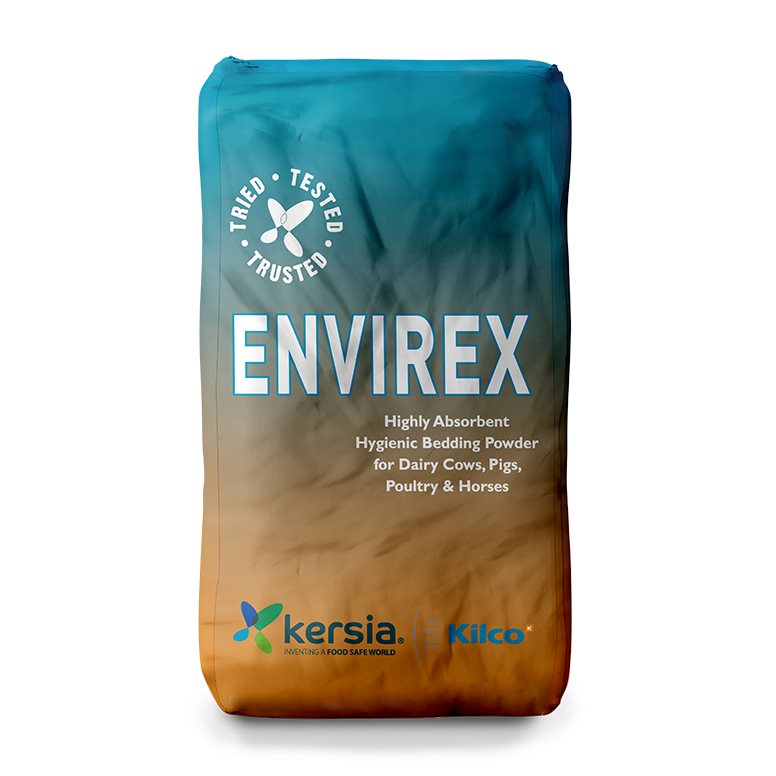 ENVIREX is a highly absorbent hygienic bedding powder for dairy cows, beef livestock, sheep, poultry and pigs, which contains a unique combination of 2% w/w of the proven biocidal product, VIREX, in a base powder formulation, comprising of mineral desiccants and essential oils.
It has been specifically designed to maintain a dry, healthy environment for all types of livestock. Its long lasting product, even under high humidity conditions. It does not paste up to form clumps after drying, helping it reduce greasiness in animal accommodation, promoting a non-slip environment.
It also has a greater absorptive capacity than that of any other clay and can help prevent the skin from drying, allowing it to keep supple and less likely to suffer from lacerations.
Always read the Safety Data Sheet (SDS) thoroughly before use.
Storage Instructions
Keep in a clean, cool and well-ventilated place away from sources of heat and intense light. Use the product within 2 years from the date of manufacture.
Please refer to the Product Label thoroughly before use.
Available in: a 20KG Bag from your local agri merchant store.
To order or to enquire
For a copy of the Safety Data Sheet (SDS) relating to this product please contact your local Kersia Area Sales Manager or call our office on 44 (0)1576 205480 or email us at [email protected]