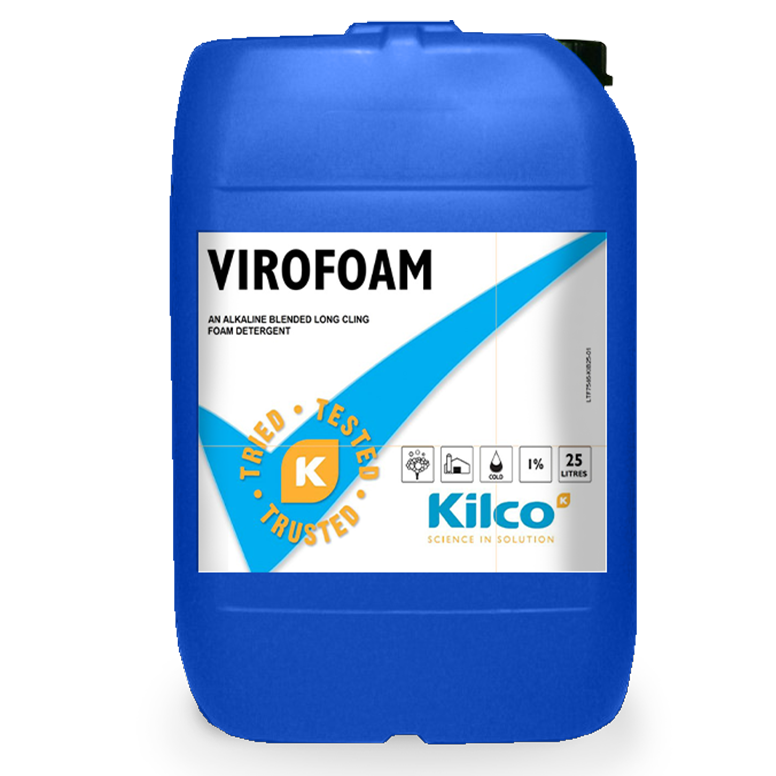 VIROFOAM is an alkaline blended long cling foam detergent which provides effective removal of fat, grease, and soil. It is an advanced stable foamer which means it provides enhanced cling to vertical and smooth surfaces with a powerful cleaning action.
As a multipurpose long cling foam detergent, it is effective wide ranging cleaner including Livestock Buildings including equipment, drinkers & feeders, Hatcheries, Process Equipment, Conveyors, Preparation Tables, Working Surfaces, Floors and Walls/Tiled Surfaces.
Always read the Safety Data Sheet (SDS) thoroughly before use.
Storage instructions
VIROFOAM should be stored in a cool dry place away from acids and has a shelf life of two years from the date of manufacture.
Please read Product Label thoroughly before use.
Available in: 4x5, 25, 200 & 1000 litre (IBC) from your local agri merchant store.
To order or to enquire
For a copy of the Safety Data Sheet (SDS) relating to this product please contact your local Kersia Area Sales Manager or call our office on 44 (0)1576 205480 or email us at [email protected]