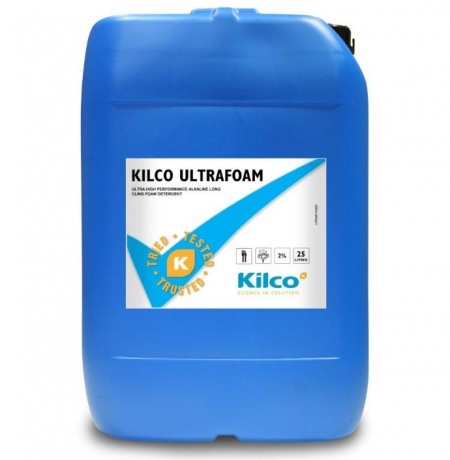 ULTRAFOAM is a high performance long cling caustic foam detergent, suitable for a wide range of applications. Its advanced formulation is particularly useful for the cleaning of areas where heavy fat, protein and starch based soils are encountered. Its low in-use concentration provides cost effective cleaning, its high sequestrant content improves activity in hard water. Good foam stability allows better cleaning via extended contact time and high detergency improves soil removal & suspension with a free rinsing formulation which leaves a smear & streak free finish.
Always read the Safety Data Sheet (SDS) thoroughly before use.
Storage Instructions
ULTRAFOAM should be stored above 0°C in a dry area segregated away from acids and ammonia solutions. The concentrate is corrosive and should be handled using appropriate PPE.
For shelf life information refer to the Product Label thoroughly before use.
Available in: 25L, 200L & 1000L (IBC) from your local agri merchant store.
To order or to enquire
For a copy of the Safety Data Sheet (SDS) relating to this product please contact your local Kersia Area Sales Manager or call our office on 44 (0)1576 205480 or email us at [email protected]