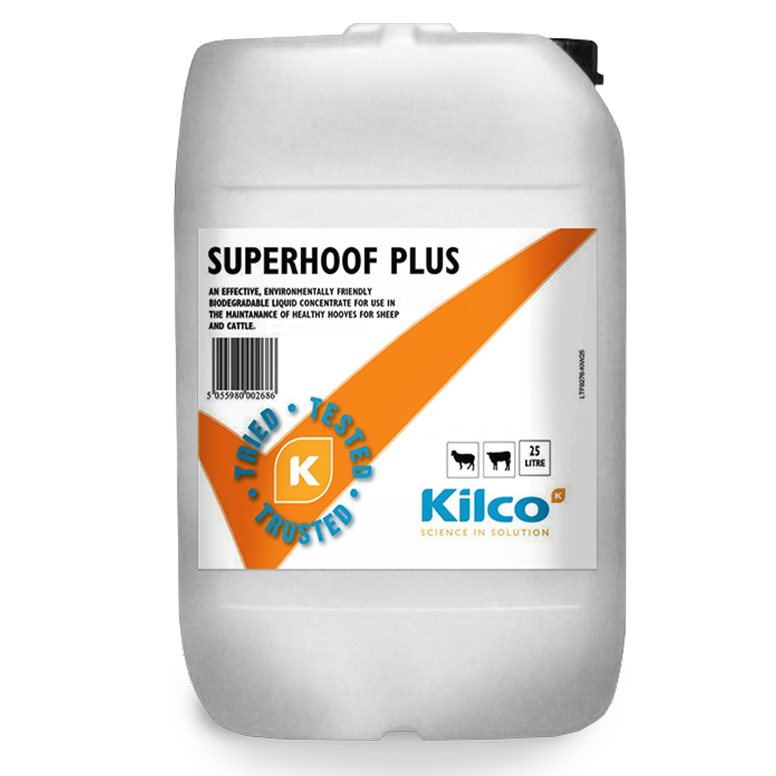 SUPERHOOF PLUS is a liquid concentrate which can be added to footbaths for the maintenance of healthy hooves in livestock. It is formulated to remain antibacterial even under sever organic challenges.
It contains a detergent to aid penetration into the hoof, whilst encouraging healthy hoof conditions and has been shown in trials to reduce chronic and raw lesion count in the herd.  SUPERHOOF PLUS is environmentally friendly and contains no copper, thus encouraging healthy hoof conditions within the herd.
Always read the Safety Data Sheet (SDS) thoroughly before use.
Storage Instructions
SUPERHOOF PLUS should be stored in a dry area and has a shelf life of 2 years from the date of manufacture.
Always read the Product Label thoroughly before use.
Available in: 4x5, 25, 200 & 1000 Litre (IBC) or as a ready-to-use 500ml trigger spray pack
To order or to enquire
For a copy of the Safety Data Sheet (SDS) relating to this product please contact your local Kersia Area Sales Manager or call our office on 44 (0)1576 205480 or email us at [email protected]