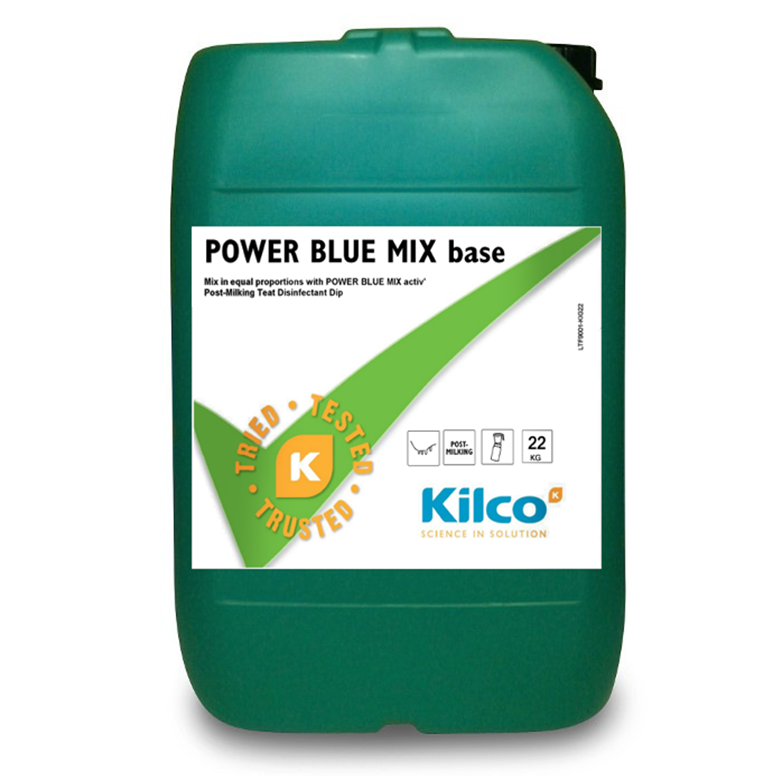 POWER BLUE MIX is our most effective teat disinfectant product for post milking use.
It is a long lasting premium quality formulation, providing up to 24 hours protection between milking. Containing Chlorine Dioxide, its unique formulation provides superb skin conditioning, whilst its low drip barrier protection means it is also economical to use.
As its name suggest once mixed, it displays a vivid bright blue colour, which is highly visible after application. Power Blue remains stable for up to two milking's. As well as chlorine dioxide, Power Blue also contains, lactic acid, glycerine, propylene glycol and xylose.
Always read the Safety Data Sheet (SDS) thoroughly before use.
Please Note: Power Blue is a combination product and must be mixed fresh daily and on a 50/50 basis with POWER BLUE BASE & POWER BLUE ACTIV.

To find out more about POWER BLUE MIX (Base and Activ) click here to watch our informative on farm video on how to use POWER BLUE MIX.
Please read all Product Labels thoroughly before use.
Available in:
To order or to enquire
For a copy of the Safety Data Sheet (SDS) relating to this product please contact your local Kersia Area Sales Manager or call our office on 44 (0)1576 205480 or email us at [email protected]