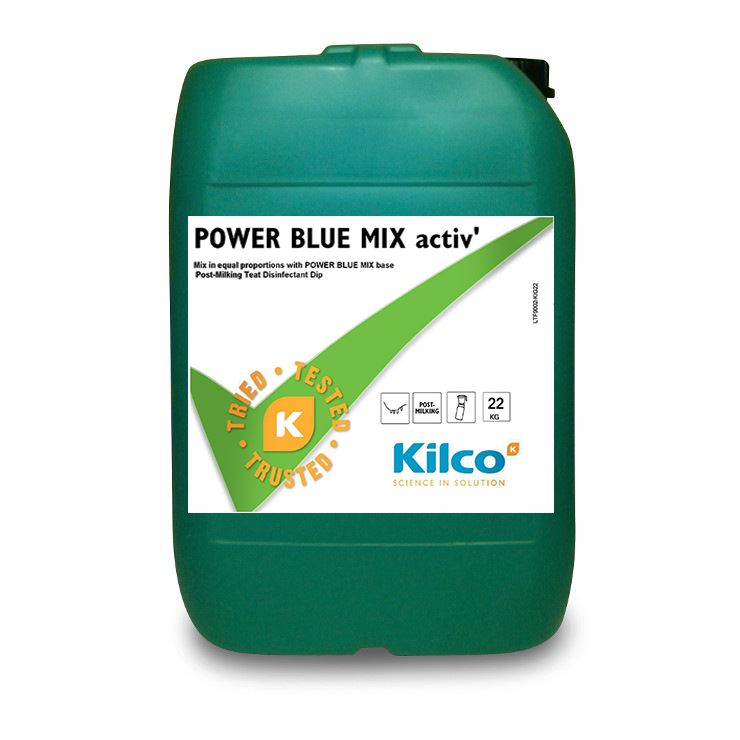 POWER BLUE MIX – Activ provides effective ongoing teat disinfection protection between milking's. Containing chlorine dioxide for the ultimate bacterial kill.
It provides superb skin conditioning and has a highly visible bright blue colour when applied to the teat. When mixed with its BASE formula, it stays effective for up to 24 hours after milking, with a low usage rate.
POWER BLUE MIX – Activ must be mixed with POWER BLUE MIX – Base to form POWER BLUE MIX and should always be mixed fresh daily and on a 50/50 basis of (BASE and ACTIV) formulas.
Always read the (SDS) Safety Data Sheets before use.
Storage Instructions
POWER BLUE MIX – Activ should be stored in a dry well ventilated area and kept away from sources of heat or ignition. It has a shelf life of 2 years from the date of manufacture.
Always read the Product Label before use.
Available in: a 22KG drum (Base & Active) from your local agri merchant store.
To order or to enquire
For a copy of the Safety Data Sheet (SDS) relating to this product please contact your local Kersia Area Sales Manager or call our office on 44 (0)1576 205480 or email us at [email protected]