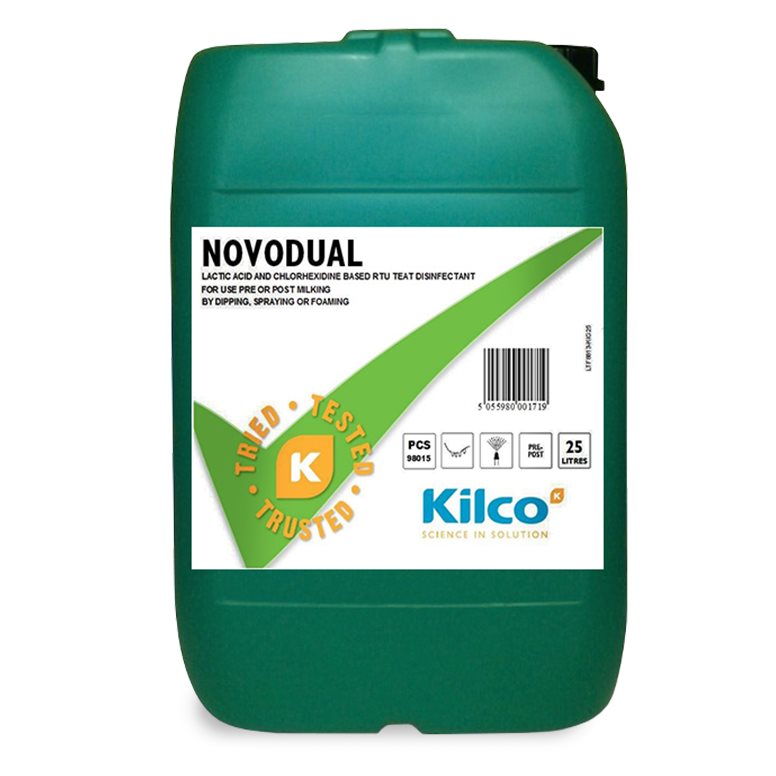 NOVODUAL is a lactic acid & chlorhexidine combination product, specifically formulated for pre & post milking teat disinfection. It is a low viscous, highly visible and ready to use. It ensures ease of convenience of product application, whilst still allowing complete teat coverage. With optimised levels of complementary acting biocides for both short acting and long-lasting protection. NOVODUAL contains enhanced levels of emollients and skin conditioning agents to help maintain and improve teat condition.
Always read the Safety Data Sheet (SDS) thoroughly before use.
Storage instructions
NOVODUAL should be stored in a dry well-ventilated area and kept away from sources of heat or ignition and has a shelf life of 2 years from the date of manufacture.
Please read the Product Label thoroughly before use.
Available in: a 25L, 200L & 1000L (IBC) from your local agri merchant store.
To order or to enquire
For a copy of the Safety Data Sheet (SDS) relating to this product please contact your local Kersia Area Sales Manager or call our office on 44 (0)1576 205480 or email us at [email protected]