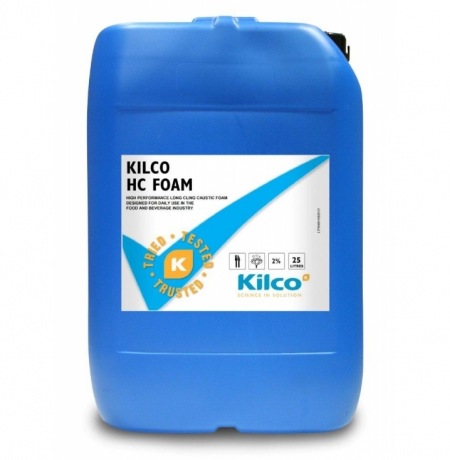 KILCO HC FOAM is a high caustic based foam product for multiple applications across the food, dairy and poultry industries including slat soaking and heavy duty degreasing.
KILCO HC FOAM is a low in-use concentration product which provides cost effective cleaning. It is a good foam stabilator allowing for better cleaning via extended contact time. Its high detergency improves soil removal & suspension and its free rinsing formulation leaves a smear & streak free finish.
Read the Safety Data Sheet (SDS) thoroughly before use.
Storage Instructions
Kilco HC foam should be stored in a dry area segregated and kept away from acids and ammonia solutions. The concentrate is corrosive and should be handled using the PPE noted in the Safety Data Sheet. For shelf life instructions please refer to the product label for the date of manufacture and use by date.
Please Note: Kilco HC foam is alkaline and is not compatible with soft metals such as zinc and aluminium.
Please read the Product Label thoroughly before use.
Available in: 25, 200 & 1000L (IBC) from your local agri merchant store.
To order or to enquire
For a copy of the Safety Data Sheet (SDS) relating to this product please contact your local Kersia Area Sales Manager or call our office on 44 (0)1576 205480 or email us at [email protected]