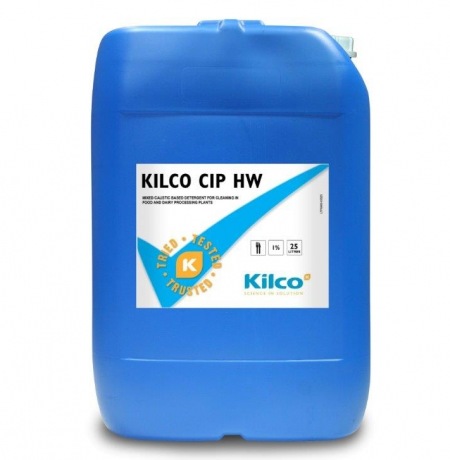 KILCO CIP HW is a mix of caustic soda (NaOH) wetting and foam control agents with an optimal blend of scale control agents. KILCO CIP HW is formulated to be suitable for most CIP and recirculation applications encountered in the Food, Dairy and Brewing Industries. KILCO CIP HW features excellent protein and inorganic scale removal properties and with regular use reduces need for an acid descaling programme. It is also suitable for turbulent recirculation systems.
Please refer the the Safety Data Sheet (SDS) thoroughly before use.
Storage Instructions
Kilco CIP HW should be stored above 0°C in a dry area and kept segregated away from acids and ammonia solutions. It is a concentrate and is also corrosive and should be handled using the PPE noted in the Safety Data Sheet.
Please read the Product Label thoroughly before use.
Available in: a 25L, 200L & 1000L (IBC) available from your local agri merchant store.
To order or to enquire
For a copy of the Safety Data Sheet (SDS) relating to this product please contact your local Kersia Area Sales Manager or call our office on 44 (0)1576 205480 or email us at [email protected]