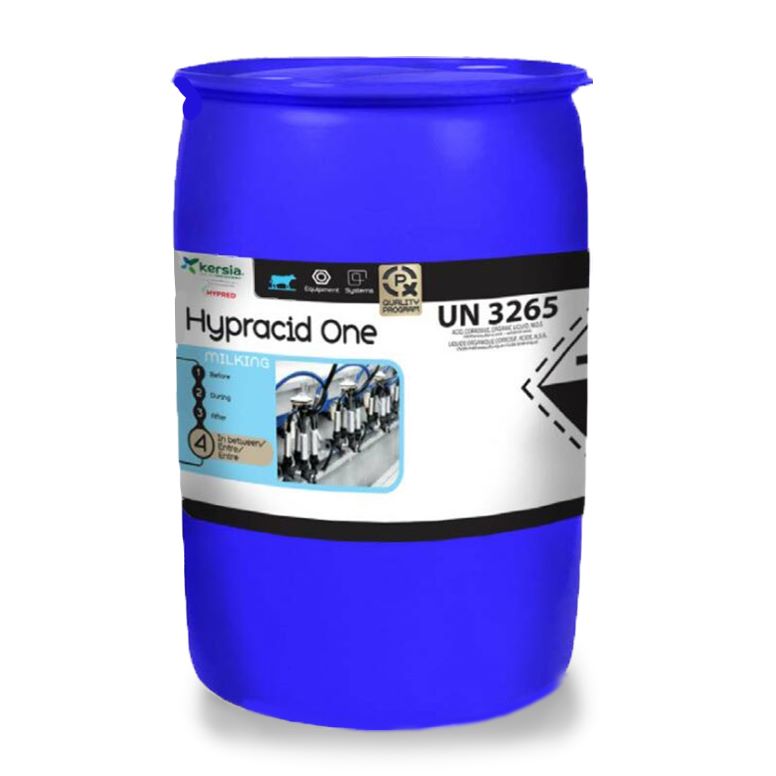 HYPRACID ONE is a unique three-in-one chlorine-free detergent, descaler and steriliser. It is phosphoric acid free helping to eliminate TCM & chlorate residues in bulk milk tanks.
Not only does it combine a three way action, it is also kind to milking rubber-ware, is nitric acid free and is an environmentally friendly disinfectant.
For best results we recommend that HYPRACID ONE is used with hot water only.
Always read the Safety Data Sheet (SDS) thoroughly before use.
Storage Instructions
HYPRACID ONE should be kept in its original packaging and stored in a clean, cool and well-ventilated place away from sources of heat and intense light. When not in use please keep container closed. It has a shelf life of 2 years from the date of manufacture.
Please read the Product Label thoroughly before use.
Available in: a 20KG, 60KG or 220KG drum only from your local merchant agri store.
To order or to enquire
For a copy of the Safety Data Sheet (SDS) relating to this product please contact your local Kersia Area Sales Manager or call our office on 44 (0)1576 205480 or email us at [email protected]