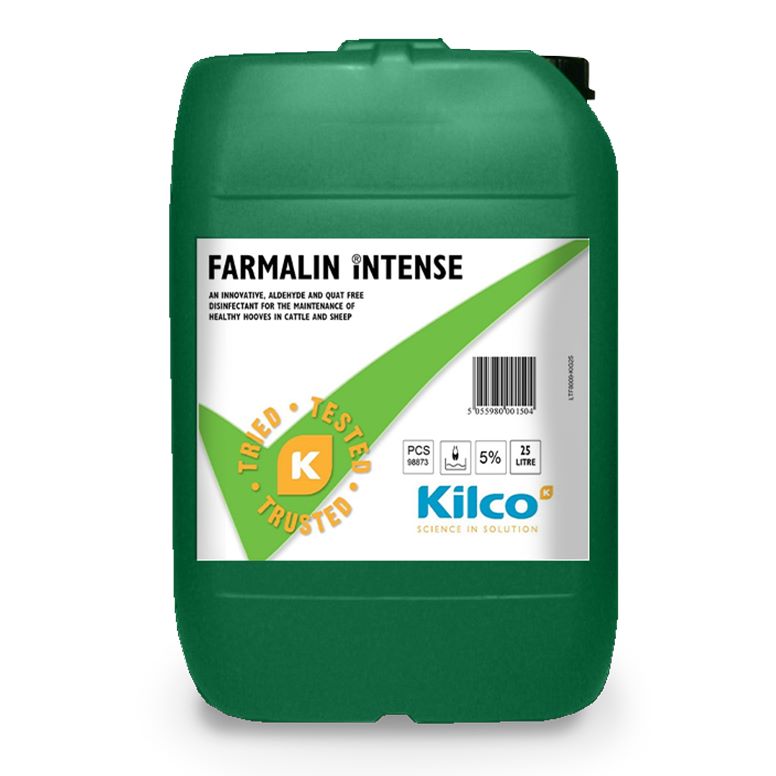 FARMALIN INTENSE is an innovative, aldehyde and QUAT free disinfectant for the maintenance of healthy hooves in dairy cows, beef and sheep. Containing IONAS barrier technology which is specifically formulated to maintain normal hoof health integrity.
As well as microbial control containing the topical antibacterial agent Chlorocresol. FARMALIN INTENSE has passed EN1656, which shows it effective against; Pseudomonas Aeruginosa, Proteus Vulgaris, Staphylococcus Aureus, Enterococcus Hirae.
It also contains excipients for optimum skin conditioning and co-solvents that will aid in hoof hardening. Whilst also providing an emollient action to the skin, as well as agents that aid in the thinning of any hard, callous skin tissues. Finally, it is an ideal direct substitute for copper or zinc in existing footbathing regimens.
Always read the Safety Data Sheet (SDS) thoroughly before use.
Storage Instructions
FARMALIN INTENSE should be stored in a dry area and has a shelf life of 2 years from the date of manufacture.
Please read the Product Label thoroughly before use.
Available in: a pack size of 25L, from your local agri merchant store.
To order or to enquire
For a copy of the Safety Data Sheet (SDS) relating to this product please contact your local Kersia Area Sales Manager or call our office on 44 (0)1576 205480 or email us at [email protected]