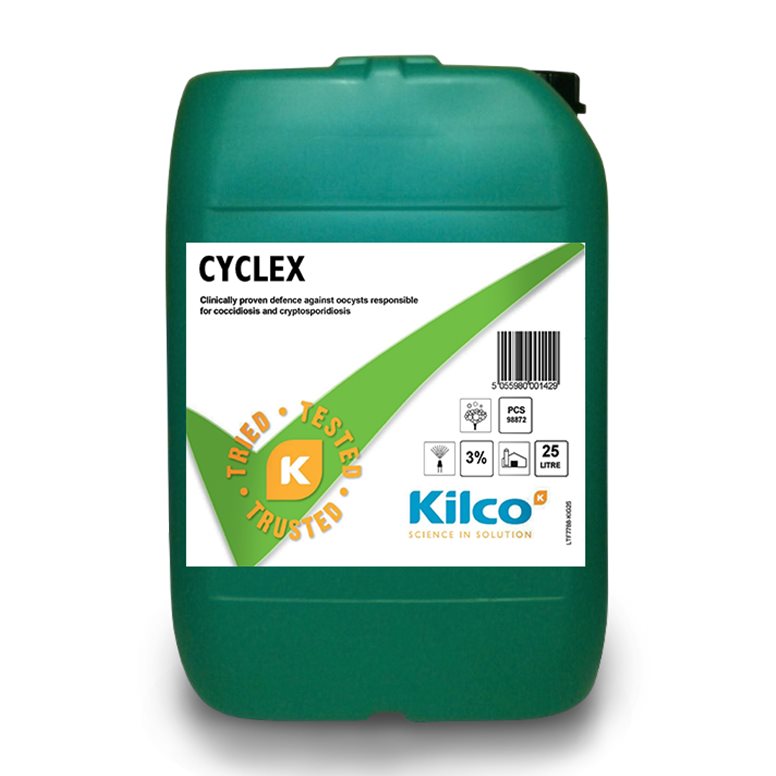 CYCLEX is proven in the defence against oocysts, responsible for coccidiosis and cryptosporidiosis. It is a surface disinfectant, which is quat free and is easy to mix and use. It contains chlorocresol, lactic & salicylic acid, as its active disinfectant compounds, with strong microbial properties.
CYCLEX is suitable for use with dairy cows, beef, sheep, poultry and pig housing. It has passed EN1656, EN1657, EN14349 and the German Veterinary Association (DVG) testing.
Along with ECOFOAM Advanced, CYCLEX forms part of our effective biosecurity programme.
Please read the Safety Data Sheet (SDS) thoroughly before using CYCLEX.
Storage Instructions
Store in the original container below 25°C in a dry, well ventilated place. It has a shelf life of 2 years from the date of manufacture.
Please read the Product Label thoroughly before use.
Available in: a 4x5L & 25L drums from your local agri merchant store.
To order or to enquire
For a copy of the Safety Data Sheet (SDS) relating to this product please contact your local Kersia Area Sales Manager or call our office on 44 (0)1576 205480 or email us at [email protected]