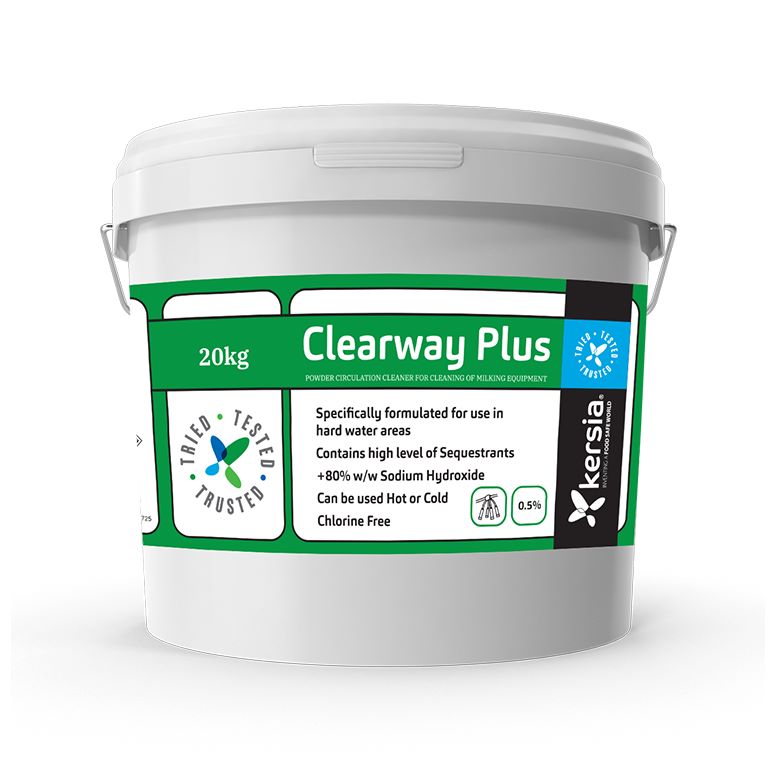 Clearway Plus is an alkaline chlorine-free circulation powder cleaner, for effective cleaning of milking parlours and milking plant equipment and is specially formulated for use in hard water areas.
It contains high levels of sequestrants and 80% w/w sodium hydroxide and it can also be used hot or cold. Due to being chlorine free, it is a popular product for dairy farmers, who wish to achieve ultra-low levels of chlorite in their final milk yield.
Always read the Safety Data Sheet (SDS) thoroughly before use.
Storage instructions
Clearway Plus should be stored upright, with its lid tightly closed after use and always kept in its original container. It should be stored in a cool dry place away from children, animals, foodstuffs and acids. It has a shelf life of 1 year from the date of manufacture.
Always read the Product Label thoroughly before use.
Available in: a 20KG bucket from your local agri merchant store.
To order or to enquire
For a copy of the Safety Data Sheet (SDS) relating to this product please contact your local Kersia Area Sales Manager or call our office on 44 (0)1576 205480 or email us at [email protected]