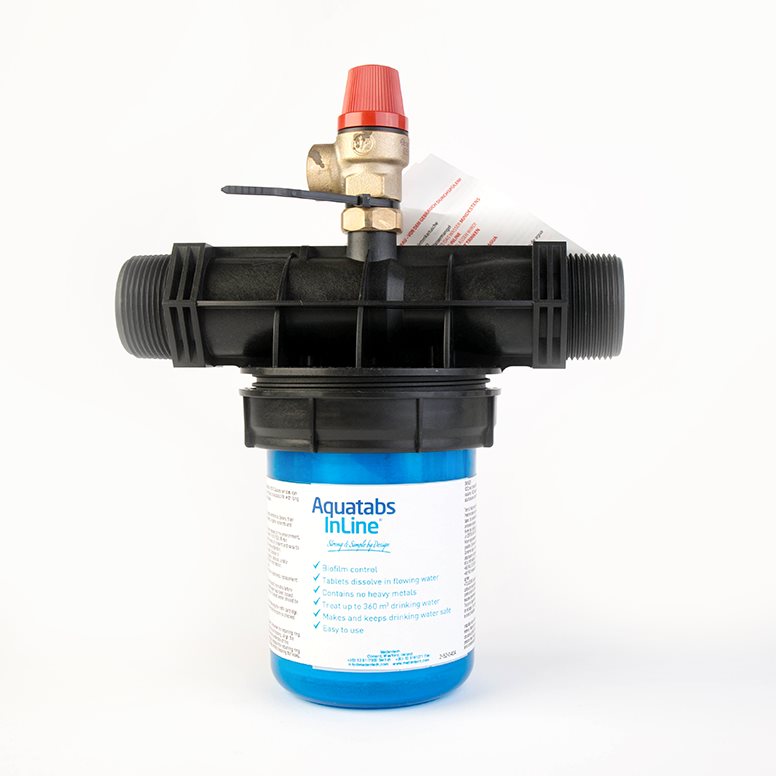 AQUATABS IN-LINE is an innovative system for disinfecting water at point of collection with no power required it works on the flow of the water. Water is forced down through a cartridge and around TCCA tablets, which erode to mix the required level of chlorine into the water line.
AQUATABS IN-LINE provides biofilm control is easy to install, no power required, requires low maintenance and no moving parts, maintains healthy water and is cost effective
and sustainable water solution.  Each AQUATABS In-Line cartridge treats 360,000 litres @ 2-3 ppm at 100% water flow.
Always read the Safety Data Sheet (SDS) thoroughly before use.
Storage Instructions
AQUATABS InLine cartridges should be kept in a clean, cool and well-ventilated place, away from sources of heat and intense light. InLine cartridges should be used within 24 months from date of manufacture.
Always read the Product Label before use.
Watch how easy AQUATABS InLine ststem can be installed here
Available in: 0.8 KG (1 box 6 X 800 G) from your local agri merchant store. One in-line cartridge can disinfect up to 360,000 litres of water.
To order or to enquire
For a copy of the Safety Data Sheet (SDS) relating to this product please contact your local Kersia Area Sales Manager or call our office on 44 (0)1576 205480 or email us at [email protected]